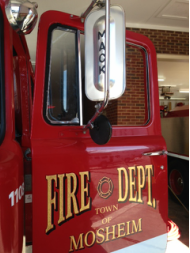 About the Town of Mosheim Fire Department

The Town of Mosheim Fire Department provides emergency services to approximately 7 square miles and serve approximately 3,000 citizens. The town limits include major infrastructure that is vital to our community. Within our jurisdiction we have nearly 4,000 students attending three public schools, nearly 15,000 commuters passing through on US11-E daily, and many friends and neighbors working in our town. The TMFD is 100% funded by the Town of Mosheim and the members are 100% volunteer. We operate one station that is located on Main St. behind Mosheim Town Hall. The TMFD is currently has an ISO rating of 4.

In addition to fire suppression, our department provides hazardous materials response, vehicle extrication/rescue, public education and fire safety programs. Our department has established standards that require many hours of training by our members. Our members are required 160 hours of fire training, 8 hours of hazardous materials training, and 24 hours of officer training annually. That is not including the hours we spend annually re-certifying in courses such as... CPR/First Aid, Vanessa K. Free, Vehicle Extrication, etc. Our Firefighters are all trained to State FF II level. Many members are Licensed Medical Responders that have Continued Education Points to obtain. Much is required of our members, but all are willing to dedicate their time for our town and neighbors.




---
Your community needs you... Become a volunteer!
---
The TMFD is always looking for self-motivated individuals to join our team. If you are interested in serving your community and learning a new trade, please click on the link below and fill out the application. You can bring the completed application by the station during normal business hours or email it to mileskilday@tmvfd.org, please feel free to contact us with any questions.

---

NOTICE:
The TMFD has FREE Smoke Alarms... If you or someone else needs smoke alarms installed please send us an email or contact us! SMOKE ALARMS SAVE LIVES!!!!


---
---